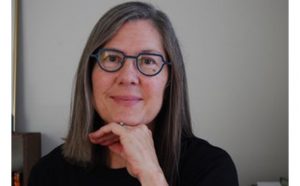 Donna Love Wallace, the leader of the Poetry in Plain Sight Program, and a noted poet will be the Featured Poet at Nexus Poets First Tuesday Open Mic on November 5th at the Harrison Center, 311 Middle St. in New Bern. She will be reading from her new book Between the Stones. The Poetry in Plain Sight posters appear monthly in shop windows in New Bern.
Her book takes the reader on a journey 1 in 8 women will experience sometime during their life: invasive breast cancer. With candor and a full range of emotion, Wallace navigates her way through disparate places and the people that occupy them: the biopsy suite, the grocery store, her closet and a tattoo parlor 350 miles from home. "With sparse eloquence and artisanal attention to her craft, Donna Love Wallace is a poet's poet," said Sam Love, one of the event organizers. "Readers of Between The Stones will cry, laugh and celebrate a voice that chooses stoic analysis over panic; positivity in the face of pain and uncertainty; and resolute courage over defeat."
After the Featured Poet reads at the Tuesday night event, the mic is open for original poems from other poets who sign up. The Harrison Center is located at 311 Middle St. in New Bern. This is a free event with donations requested to pay for the space. The readings are sponsored by Nexus Poets, a nonprofit group of Eastern North Carolina poets promoting poetry in the area.
Submitted by: Sam Love, Nexus Poets